Halloween Party
31st October to 1st November
125 Days of Fantasporto events in Downtown Porto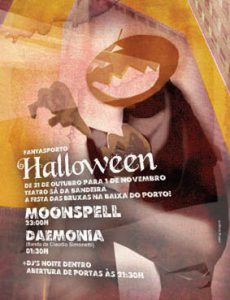 Moonspell and Daemonia are the bands leading the festivities of Halloween at the Sá da Bandeira Theatre. It's the beginning of 125 days of events organized by the popular Fantasporto.
The gothic metal music dominates the performance of the Portuguese group Moonspell, one of the most internationally known rock bands.
As to the Italian Daemonia, it's the return to Porto of Claudio Simonetti's band, after their success last March.
These concerts and the Halloween Ball which will follow help keep the name of the Porto Film Festival alive. This also happens with other film events all over the country which are organised by Fantasporto through the year.
The Halloween Party and other programmed events also help in the revitalisation of downtown Porto, its bars, restaurants and hotels. The events include art exhibitions, film retrospectives and a spectacular firework and multimedia show, organised in cooperation with Realizar.
MOONSPELL is already well-known internationally as a "goth-metal" band, with hits that include "Wolfheart" (1995), "Butterfly Effect" (1999), and even the soundtrack of the award-winning "I'll See You In My Dreams" by Filipe Melo.
The other group are the Italian DAEMONIA, Claudio Simonetti's band, responsible for the music scores of most of Italian horror master Dario Argento's films. Os Daemonia return to Porto after the success of their last concert in FantasSound last March, at the Sá da Bandeira Theatre.
The Halloween Party also called Night of the Witches, is organised in cooperation with Porto Eventos and Mundo da Canção.
The Halloween Night will be completed with several DJ's and lots and lots of fun.
Cost of each ticket- 15 euros.
Fantasporto
Halloween Party
Night of the Witches
31st Out – 1st de Nov
Teatro Sá da Bandeira
23.00h Moonspell
01.30h Daemonia
and incredible DJ's till dawn
Bring your best disguise…
Doors open at 9.00 p. m.
Bring the MONSTER in YOU!